Planes or Worlds of Consciousness
From Anthroposophy
The different states in the evolution of the cosmos are described as the working of the three Logoi in the various states or three dimensions of evolution: Conditions of Consciousness (CoC), Conditions of Life (CoL), and Conditions of Form (CoF).
From this evolutionary dynamic arise different 'worlds'. Man participates in them today, can broaden his consciousness through initiatory practice, and in the future will participate in the different worlds having arrived at states of consciousness much higher than he has today.
Different states of clairvoyance allow the initiate or spiritual scientist to investigate the different worlds .
These world are also called 'planes', but these should not be thought of as physical in time and space, different, or stacked: they interpenetrate as part of the same single cosmos.
Illustrations
FMC00.079 gives an overview of the various terms for the different worlds or 'planes' corresponding to different Conditions of Consciousness.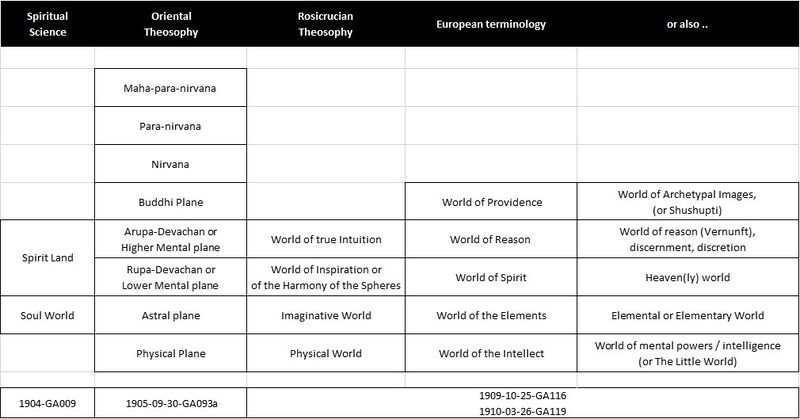 FMC00.078 shows the 'wheel of planes' as described in 1904-02-02-GA090A and explained in 1904-11-10-GA089, showing correspondences between planes.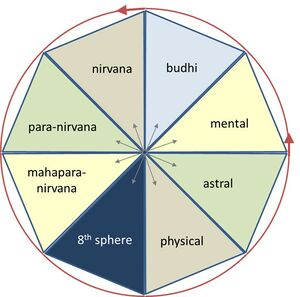 Lecture coverage and references
1912-06-12-GA137 (SWCC)
You see, therefore, it is quite possible to perceive with ordinary intelligence that there are these three styles of consciousness. It would take us too far now to investigate the indications that undoubtedly exist in man of still higher consciousnesses. We have, however, shown that whenever man sets out to reflect on his life as Earth man, he discovers manifestations of higher consciousnesses. It is, therefore, possible to speak to Earth man of these higher states of consciousness. ...

In spiritual science we speak of different states of consciousness. In reality they are different worlds and it has become customary to call these different states of consciousness different planes.

That which can be surveyed with the physical consciousness is called the physical plane;
that which is perceptible to the first consciousness of a super-sensible nature, the astral plane;
to the second, the lower Devachan or mental plane;
and to the third, the higher mental, or higher Devachan plane.
Still farther on, we have the Budhi plane and the Nirvana plane.

All we are doing here is simply to give other names to the findings of spiritual science. In all cases .. it is always man who, in his varying conditions or states of consciousness, is active as member of the different planes or worlds. What we have done is to lead over the knowledge of man from the standpoint of esoteric science, where we speak of different Conditions of Consciousness and different Conditions of Life and Form in evolution, to the knowledge of man from the standpoint of theosophy. For where the spiritual researcher speaks of Conditions of Consciousness, the theosophist speaks of successive planes. Esoteric or spiritual science can in this manner be communicated openly as theosophy.
Discussion
In various epochs and cultural ages, humanity goes through special relationship with the CoC at any of these planes, see for example in the Current Postatlantean epoch.
Related pages
References and further reading