Evolution Module 3 - Integrating traditions
From Anthroposophy
This Evolution Module 3 is about integrating ancient traditions into the modern spiritual scientific framework, thereby not only
connecting feeling-wise with a lineage and traditions of centuries and millenia ago, but also
stepping over the limits of a single framework or body of knowledge and getting the benefits of a meta-representation perspective. Indeed every framework or descriptive language imposes its own set of constraints, because it forces a complex reality into a narrow descriptive clothing due to the need of finite limitations of contemporary Waking consciousness and intellectual reasoning.

In other words, this module is about the study of various sources and streams of information on the topic of evolution, holding them against your own personal framework and understanding, developed in Module 1.
This is the what, the next paragraph is about the why.
Process
The enormous benefit is that these ancient sources and myths are multi-facetted, their is spiritual forces in their content that works on Man, and their meaning is not 'uni-dimensional or flat' as is often te case in our dry intellectual understanding of conceptual knowledge. In other words, by connecting (by study, contemplation and meditation) these sources can bring the anthroposophical spiritual scientific framework to life in our mind and soul.
This is the same principle as Rudolf Steiner explained when discussing the Gospel of John as an initiation document, with examples of how to bring the phrases to life in one's imagination by contemplation.
Illustrations
Schema FMC00.293 is a draft WIP version of a schema depicting the spiritual scientific version of what is called in contemporary popular science 'big history'. The intention is to sketch how various sources of information for the study of evolution compare in terms of scope, projected onto the spiritual scientific evolutionary framework above.
Notes:
the schema is draft WIP and unfinished but was uploaded to depict the idea. It will be iteratively improved later, as more schemas are uploaded for the various aspects currently not covered on the site yet.
The idea is to provide cross links, as a dashboard, to jump to other pages and schemas.
This schema may then move to another topic page for 'big history', the spiritual scientific version.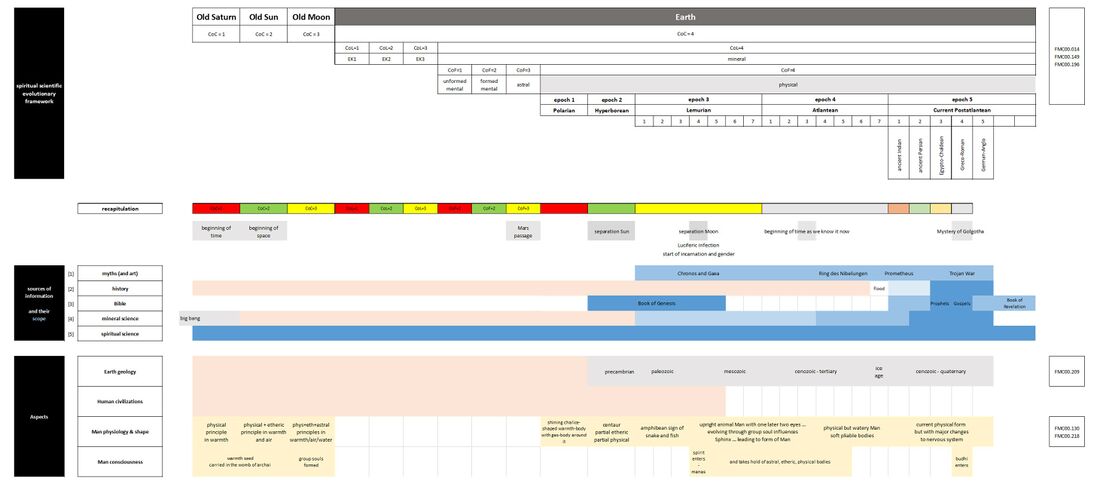 Sources
Here are a number of perspectives:
Book of Revelation
Discussion
Related pages