Christ Module 19 - experiencing the Christ
From Anthroposophy
Illustrations
Schema FMC00.082 shows (projecting into schema FMC00.047), the evolving relationship Man will have (or be able to develop) with the Christ

Schema FMC00.081 below gives an overview of some of the expected faculties related to the appearance of 'Christ in the etheric' due to the arising new clairvoyance. As depicted in the GA191 BBD (see eg FMC00.013) this clairvoyance will be a mixture of wisdom with moral consciousness, hence the elements related to karma in the table below.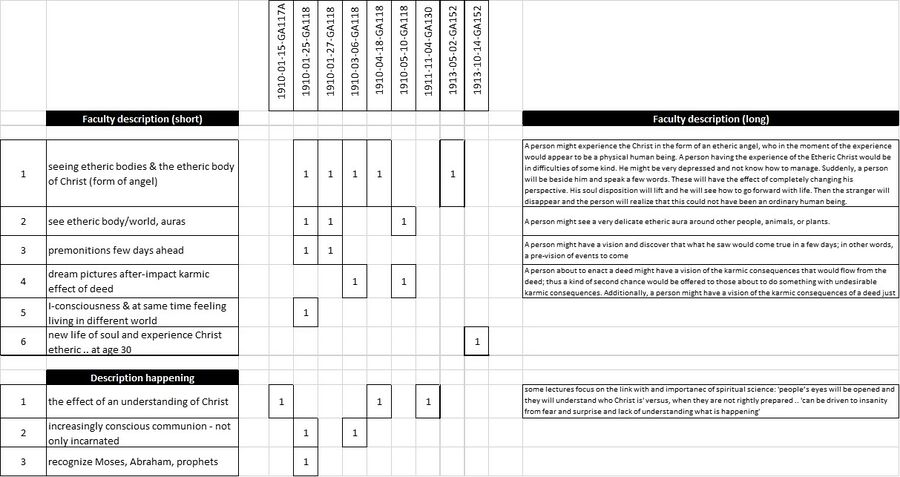 Lecture coverage and references
Appearance of the etheric Christ
1910-01-12 Stockholm first, then also 1910-06-13 Oslo public, after tentative hint in esoteric lesson 1907-12-05
1917-02-06-GA175: Christ's approach already perceptible for initiate from 1909 onwards on astral plan, becoming accesible for humanity as supersensible experience from 1930 onwards
Interesting is also the message known as 'a call to my people', an angelic prophetic message to Peter Deunov in 1898 (1898-10-08).

Other lectures
1910-01-25-GA118 - 1910-06-03-GA118 - 1910-04-18-GA118 -
Discussion
Related pages
References and further reading
Sergei O. Prokofieff: 'The Appearance of Christ in the Etheric: Spiritual-Scientific Aspects of the Second Coming' (2012)