The life of Rudolf Steiner
From Anthroposophy
Rudolf Steiner (1861-1925) was an influential incarnation of an important spiritual Individuality closely related to the White Lodge and Christian Rosenkreutz in the important Michael age starting in 1879, see also Sources of spiritual science.
His life touched and influenced many souls part of The Michaelic stream directly across Europe. His lifework provided the foundation for a worldwide movement of spiritual science or anthroposophy, that inspires many hundred thousands op people across the world.
As a consequence, the life of the man has been the subject of great interest, one can probably find more than hundred books about his life. Tables FMC00.365 and FMC00.366 below provide a starter overview of dozens of books about his life, including reports from people who knew Steiner directly and describe him as a person from many angles of perspective.
See Discussion area for commentary and recommendations.
Aspects
European travel and lecturing activity -see also Rudolf Steiner's Gesambtausausgabe (GA)

Rudolf Steiner gave lectures in over 120 cities in at least 12 countries. This is important, because he did invest in the travel and translation to reach souls incarnated across Europe, rather than stay in one location. Like the sewer, these seed activities were then the start of circles of people involved with spiritual science (and this carrying over across generations, providing a lineage as certain anthroposophists provided the personal embodiement and 'spiritual leadership' in the various locations). Some lectures were to a small groups of students, others to several thousands of people. The majority of the lectures were held in Germany (DE) and Switzerland (CH), but also in AT, NO, UK, NL as well as CZ, FR, DK, FI, IT, SE (ISO 3166 country codes are used).
Illustrations
Schema FMC00.124 gives an overview on Rudolf Steiner's adult life and especially his lecturing activity in the three main seven year periods (in colour), the three moon nodes (in grey on the left), and some milestones in the right columns.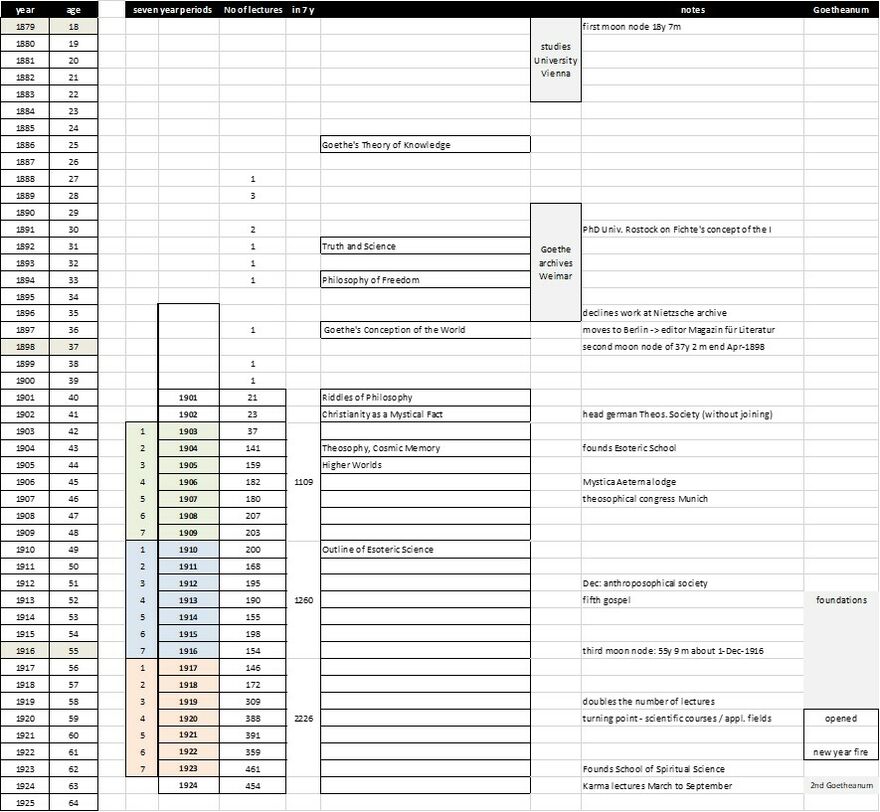 Table FMC00.365 provides a non-exhaustive overview of biographical literature on the life and person of Rudolf Steiner. ISO 3166 codes for country/language where it is not English.
No 31 in the table is Steiner's own partial autobiography. Besides the early books by his students such as Zeylmans (1932) and Wachsmuth (1951) or Bock (1961), well known post-war works were the works by Sheperd (1955), Hemleben (1963, in EN 1975), Colin Wilson (1985) and Lindenberg (1988-1997). The last three have been translated and are available in multiple languages. As the table shows not exhaustively, not all works of biographers were translated or can be compared on equal footing, eg Rihouët-Coroze. Two extended works mentioning are the four volume 'Das Wirken Rudolf Steiners' (1970-80s in DE only) and the recent seven volume bio by Peter Selg (2014-2019).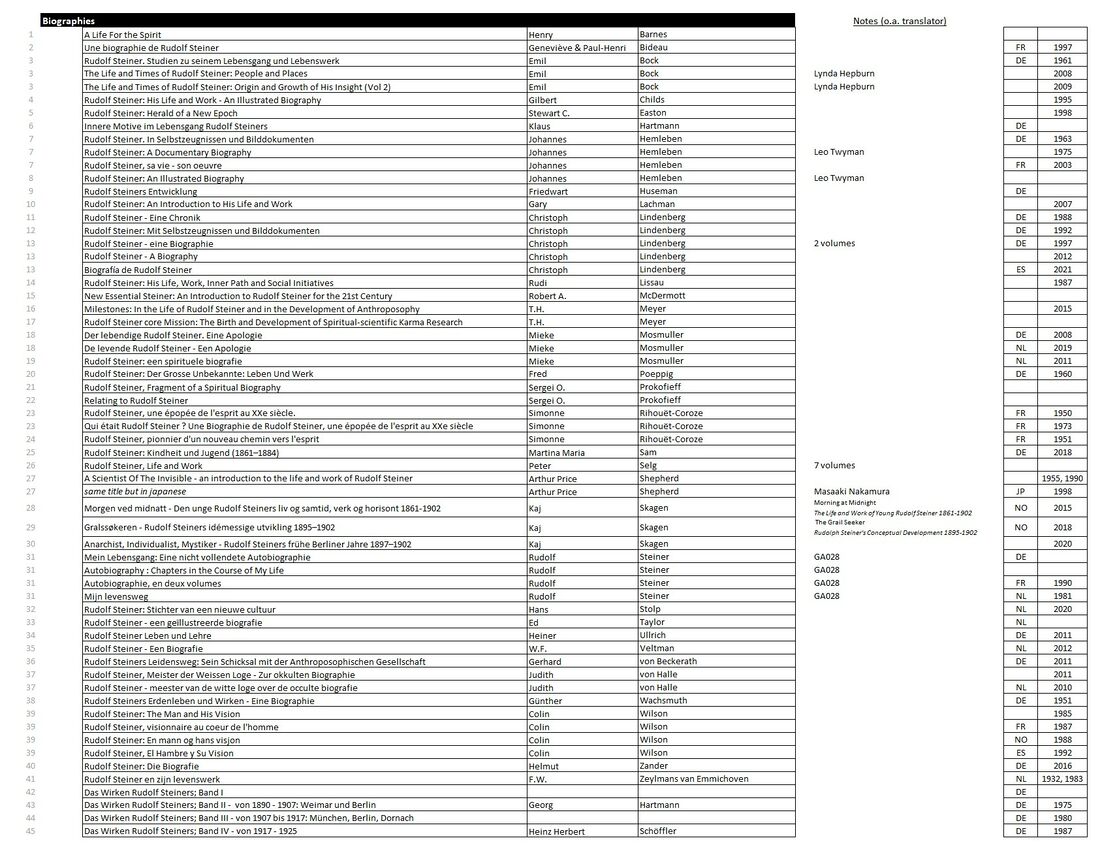 Table FMC00.366 provides a non-exhaustive overview of literature on the life and person of Rudolf Steiner, from personal reminiscences and memories by people who knew him directly. See Discussion area for more qualifications and opinions.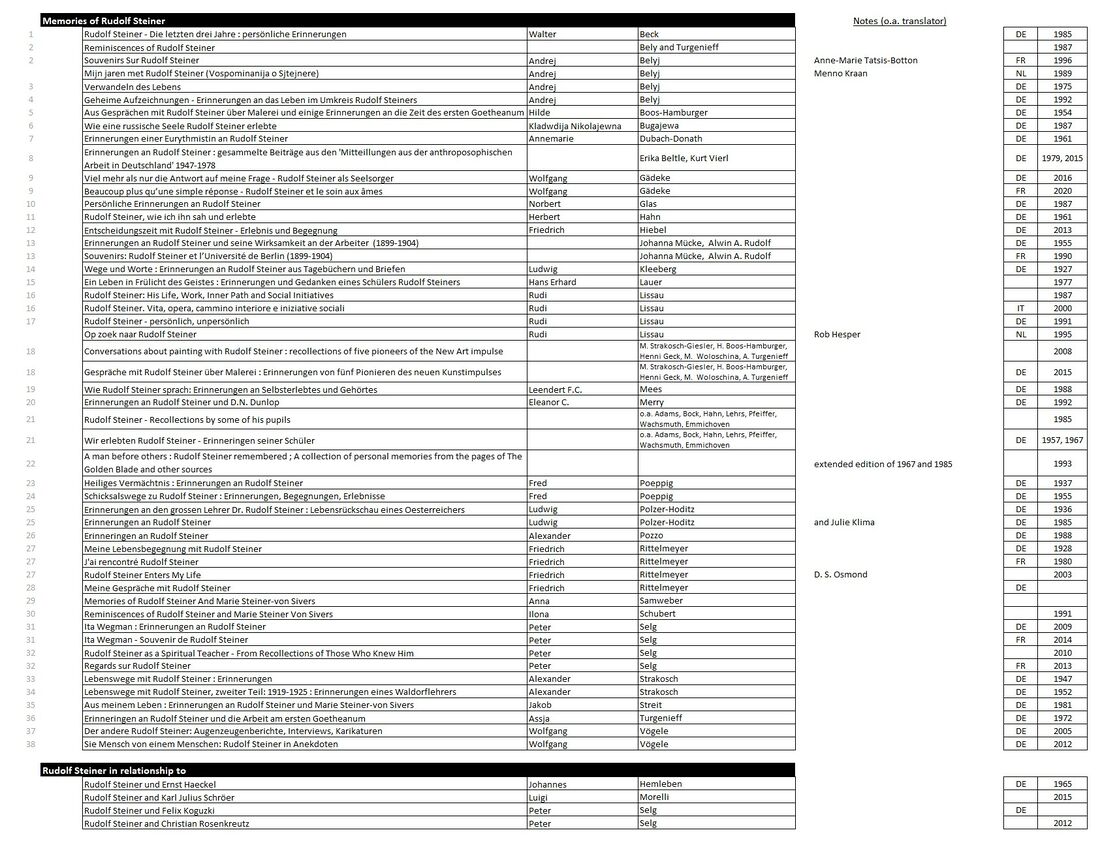 Lecture coverage and references
Discussion
Recommendations re table FMC00.366
Most of these are in German. It is suggested to look into second hand bookshops online to find certain works no longer readily available.
In English, good introductory reads as an introduction to the personal side of Rudolf Steiner are No 21 or 22 in the table
No 21 - Rudolf Steiner - Recollections by some of his pupils (published by the Golden Blade, 1985)
No 22 - A Man Before Others: Rudolf Steiner Remembered (1993)
or else also Rittelmeyer eg No 27 'Rudolf Steiner Enters My Life'
In German:
A book that stands out, is No 3: Andrej Belyj's 'Verwandeln des Lebens' (1975 in DE, third edition 1990, original in RU 1929)

this is probably the richest book in terms of detailed descriptions by Belyj who gives both poetic and almost cinematographic descriptions of Steiner and his humour, social behaviour, clothing, favourite meals and drinks, and so on, but also more importantly his soul and spiritual energy in human relationships. Belyj followed Steiner to some 400 lectures and also gives detailed descriptions of certain specific lectures (eg the lectures on the fifth gospel), and on Steiner and the theme of the Christ.
Notes:

the 'unforgettable evening' of 1912-12-26 that Belyj mentioned cannot be traced in Hans Schmidt's reference (Das Vortragswerk Rudolf Steiners), Steiner was in Berlin on the 22nd - 24th and Hannover on the 27th, then continued to Koln on 28th. The Berlin lecture of 24th comes closest, being about 'betrachtungen ünder den Weinachstabend). However it would be surprising and quite unlikely that Belyj would be wrong with his date which is so important to him.
Belyj also wrote: 'Geheime Aufzeichnungen - Erinnerungen an das Leben im Umkreis Rudolf Steiners (1911-1915)' (1992 first in DE, 2nd edition 2002, original in RU manuscript 'Material k biografii (intimnyj)' published as 'Andrej Beyj i antroposofija' in 1989-1991)

Nos 8 and 38 allow a broad view as they also contain impressions from non anthroposophists like Albert Schweitzer, Gustav Meyrink, Frank Kafka, Albert Einstein, Hermann Hesse, etc.

No 8 is probably the richest in that it contains impressions by 59 different people over >500 pages.
No 37 has shorter impressions by a multitude of people organized by time period.
Additions to tables FMC00.365 and FMC00.366
As mentioned, tables FMC00.365 and FMC00.366 are surely not complete. Please let us know if you know of any others, so these can be updated.
René Maikowski: 'Schicksalswege auf der Suche nach dem Lebendigen Geist' (1971, 1980)
Herbert Wimbauer: 'Die Individualität Rudolf Steiners, das offenbare Geheimnis der Anthroposophie' (1979)
Fred Poeppig:

'Die Bedeutung der siebenjährigen Entwicklungsperioden im Lebensgange Rudolf Steiners' (1950)
'Rückblick auf Erlebnisse, Begegnungen, Persönlichkeiten' (1964, ²1983)
Related pages
References and further reading
See FMC00.365 and FMC00.366