Beinsa Douno
From Anthroposophy
Peter Deunov (1864-1944) is an incarnation of an important spiritual Individuality and was a spiritual teacher of esoteric Christianity. As a spiritual teacher he used the name Beinsa Douno and not his native name Peter Deunov.
He gave thousands of lectures and talks, prayers, exercises, occult formulas, mantras and songs. He lectured a.o. on the second coming (of Christ in the etheric) and the Sixth epoch. He lived and worked mainly in Bulgaria, and his teachings show a connection with the Slavic people and culture in light of the next Sixth cultural age.
He is generally regarded as a member of the White Lodge. His Individuality is subject of speculation and debate, see the 'Discussion area' below.
Some facts of his life include (see full biography link under 'Further reading' below:
During the period 1888-1895 he studied medicine and theology in the United States (Boston University)
In 1897, aged 33, he had a first group of disciples and formed an association for raising the religious spirit of the Bulgarian spirit, later called 'the chain' and 'universal white brotherhood'.
His first public lecture was in 1914, aged 50. In total he gave thousands of lectures (figures between 3700 and 6000 are given) in the 30 years period up to 1944, teaching by stories like old prophets.
From 1932 and onwards, he taught Paneurythmy in the Rila mountains south of Sofia, Bulgaria. See also the topic page Eurythmy
Aspects
some headlines

call to my people (1897-8)
good prayer (1900) - see below
Illustrations
FMC00.409 shows Beinsa Douno at later age, on the right the most well known picture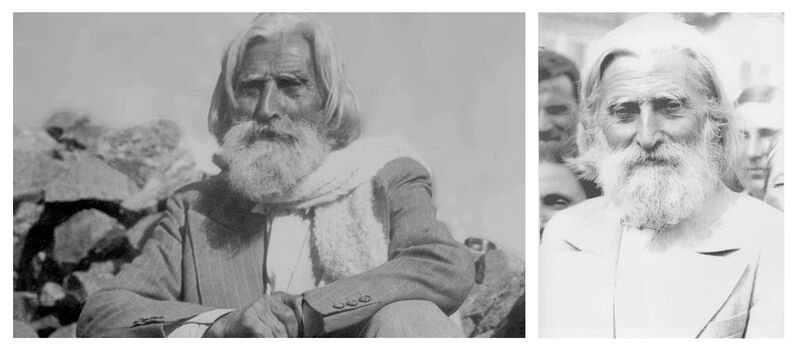 FMC00.409A shows Beinsa Douno amidst plain people, teaching through stories

FMC00.409B shows Beinsa Douno at younger age (left and center)

Lecture coverage and references
On 19 March 1897, Beinsa Douno received an inspiration by the spiritual world. From the archives of Boyan Boev (Vol 1, Sofia, 1999, p 339):
"Then I received a mission from Heaven, then it was told to me that I am a teacher for the whole humanity. The mission assigned to me is connected with the new path of the Slavs and with the coming of the sixth race"
In 1898 he gave a prophetic angelic message known as 'A Call to My People' that announced the Second Coming of Christ in a New Age, in which the Slavic nations will step forward as the carriers of a new culture of love and brotherhood. See PDF downloadeable in the 'Further reading' section below.
Good Prayer
The Good Prayer given by Beinsa Douno on 1900-11-27 to his disciple with the words
.. guard this prayer like the apple of your eye, for it comes from the Divine Spirit.
It consists of nine petitions, like the Sermon on the Mount, links to the Lord's Prayer (seven petitions).
Version 1
Lord, our God, our kind Heavenly Father, who has bestowed upon us life and health to rejoice in You, we pray to You, send us Your Spirit to guard and protect us from every evil and deceitful thought.

Teach us to do Your Will, to sanctify Your Name and to glorify You always.

Consecrate our spirit, enlighten our hearts and our mind, that we may keep Your commandments and precepts.

Inspire in us with Your Presence, Your pure thoughts, and guide us to serve You with joy.

Our life, which we dedicate to You for the good of our brothers and neighbours, bless You Lord.

Help us and support us to grow in every knowledge and wisdom, to learn from Your Word and to abide in Your Truth.

Lead us in everything we think and do in Your Name, to be for the victorious-success of Your Kingdom on Earth.

Feed our souls with Your Heavenly bread, and strengthen us with Your Power, that we may succeed in our life.

As You give us all Your blessings, so add unto us Your Love, to be our eternal law.

For to You belongs the Kingdom, the Power, and the Glory forever and ever. Amen.
Version 2 - alternative translation
Lord God, our tender Heavenly Father, who has given us life and health to rejoice in Thee, send us Thy Spirit to protect us, to shield us from every harm and from all evil thoughts.

Teach us to do Thy Will, to sanctify Thy Name, to glorify Thee at all times.

Sanctify our spirits, enlighten our hearts and minds to keep Thy decrees and commandments.

Inspire us with Thy holy presence and pure thoughts, direct us in Thy ways, so that we may serve Thee with joy.

Bless the life we consecrate to Thee for the sake of our brothers and sisters, and those dear to us.

Succour us and assist us, so that we may grow in Wisdom and understanding, that we may be instructed by Thy Word and that we may abide in Thy Truth.

Guide us in all our thoughts and actions in Thy Name, so that the Thy Kingdom may come on earth.

Feed our souls with Thy Heavenly bread and fill us with Thy strength, so that our lives may be fruitful.

And as Thou dost shower us with all Thy blessings, may Thy love remain our eternal law.

For Thine is the Kingdom, the Power, and the Glory, forever and ever. Amen
Quotes
Rudolf Steiner said in a conversation with Boyan Boev, who would become one of the closest disciples of Beinsa Douno, in Munich in1910
The Slavonic people are destined to have a great mission. They, and particularly Bulgaria, will contribute a good deal to the elevation of humankind. Return to Bulgaria, there is a powerful spiritual movement in Bulgaria, headed by a great spiritual Initiate.
another version of this quote is
I have nothing to teach you, go back to Bulgaria, the universal teacher is already working there
Albert Einstein
All the world renders homage to me and I render homage to the Master Peter Deunov from Bulgaria.
Some caution for unqualified statements may be appropriate as many claims abound, such as:
by Krishnamurti who would have said that the World Master was in Bulgaria,
that Peter Dounov worked through Rudolf Steiner in the period 1910-13
.. but seemingly none of these statements can be traced or backup with factual evidence.
Discussion
Note [1] - Speculation about Individuality of Beinsa Douno
Filipov, Pavlov and Kelev (see references below) make a case for their identification of Beinsa Douno as the incarnation of the Bodhisattva that will become the next Buddha, the Maitreya Buddha. See also the lectures by Rudolf Steiner on Jeshu Ben Pandira in 1911-11-GA130.
Powell and Salman (see references below) make a case for their identification of Beinsa Douno as an incarnation of Master Jesus
see the text for Schema FMC00.432A on Colchis Mysteries for another interesting coincidence, noticing also what is described in Two streams of development#1909-11-14-GA117 2 in context of Paneurythmy
Various
Beinsa Douno is characterized by teachings for the people, whereas Rudolf Steiner's spiritual science or anthroposophy represents more of a 'knowledge' stream.
students in the footsteps of Beinsa Douno:

Omraam Mikhaël Aïvanhov (1900-1986), born Mikhail Dimitrov Ivano
Related pages
References and further reading
Books
David Lorimer: 'Prophet for our times' (1991, 2015)
Filip Filipov, Preslav Pavlov, and Dimiter Kalev: The Bodhisattva in the 20th Century: Seeking the Word of the Bodhisattva Maitreya (2007)
Vlad Pashov: The Extraordinary Life of the Master Beinsa Douno (2012)
Peter Deunov - Prophet of the new age: 'A call to my people' (1898) (with commentary by Harrie Salman) (2014)
Robert Powell and Harri Salman: Prophecy of Beinsa Douno
Maria Mitovska and Harry Carr: 'The Teacher - Volume I: The dawning epoch' (2015)
Harrie Salman: 'Rudolf Steiner and Peter Deunov' (2023)
see also:
various books by Astrala publishing
certain books freely downloadeable in PDF format online here
Websites
For English speakers it can be challenging to find one's way around to sites in bulgarian and russian. Below follow a few references:
reference site 1:

beinsa.eu is a portal site that links to subsites on other URLs in various languages (russian, french, german, spanish, italian, english)

reference site 2:
reference site 3:
Furthermore also see: