Status of planned publications
From Anthroposophy
Advanced Study Volumes for spiritual science
The FMC project has been translating and editing study materials that have not been translated or published in English before.
See SoSoG for more context of the valuable contributions by sometimes unknown German anthroposophists.
series with the same format, layout, nomenclature, systematic referencing
integrative (see 'Systematic Anthroposophy')
in the same spirit as 'Arbeitsmaterial zum Studium der Geisteswissenschaft Rudolf Steiners' (prev. Verlag Die Kommenden, Freiburg) and the work of many anthroposophists who dedicated their lifetime to this (see SoSoG)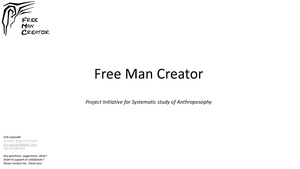 A - Essays on Christ
Translator: HH
Contents: Rebholz' Christology, Kuerten three booklet, Lorenzen typoscript (never published before), Berger, Hoffmeister
B - Elementary kingdoms
Translator(s): TRG
Contents: Rebholz' three versions, Kuerten booklet, Lorenzen fragments, additions from GA not available for these authors (eg GA 88-89-90-91)
C - Rebholz' bundled work
Translator(s): HH+ TRG
D - Iwer Thor Lorenzen
Translator: TRG
E - Physiology by Norbert Glas'
Translator: TRG

The following two volumes are the result of many years of work, and still Work In Progress
E - Christ (new - by DL)
being worked .. will build on A (and B)
F - Reincarnation (new - by DL)
being worked ..
Discussion
Related pages
References and further reading