Biodynamic agriculture
From Anthroposophy
Biodynamic agriculture is a term coined after Rudolf Steiner's eight-lecture agriculture course (GA327) in June 1924, and furthered by Ehrenfried Pfeiffer (1899-1961). Commentaries to the course are available eg from Scharff and Nastati (see references).
Biodynamic agriculture has developed into a worldwide movements in over 40 countries.

It includes two main practical aspects:
- to make soul and plant life more receptive or responsive to cosmic influences, by using field and compost preparations (as directed by Steiner)
- to access appropriate cosmic timings for production of different crops making use of a biodynamic calendar.
The use of the so-called biodynamic calendar is a development from after Steiner's time, it was developed by Maria Thun (1922-2012) but has been the subject of debate on the basis of empirical research, see the work of Hartmut Spiess, see references below for both.
Biodynamic preparations
The biodynamic preparations are really processes to create materials with a soil activating vitalizing effect. There are seven as originally conceived by Rudolf Steiner:
the field sprays, referenced by numbers 500 and 501

500: horn manure
501: horn silica

the compost preparations, referenced by numbers 501 to 507

502: yarrow - achillea millefolium
503: chamomille - matricaria recutita
504: stinging nettle - urtica dioica
505: oak bark - quercus robur or Q.petraea
506: dandelion - taraxacum officinale
507: valerian - valeriana officinalis
The preparation processes make use of cosmic influences by storing the preparations in the soil for a year, some of them stored in animal organs or horns (see table below)
After research showed the efficacy of these original preparations, other people have developed and experimented with preparations (eg Hugo Erbe, Glen Atkinson, and others)
Principles
Although a huge amount of information is available around the worldwide biodynamic agriculture movement, and especially all is practical aspects, its spiritual scientific workings are not always clearly explained. For this one needs a study and appreciation of three aspects:
the work of elementals in the process
the process of transmutation
the study of the planetary and zodiacal influences
See Lievegoed (1951) for an explanatory discussion of the preparations: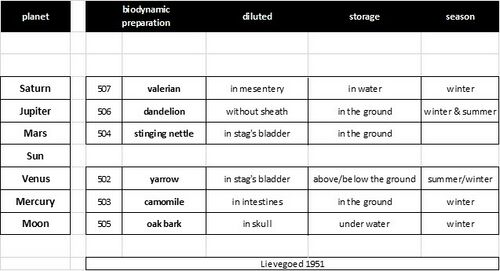 Demeter
Demeter Biodynamic Certification, established in 1928 as the first ecological label for organically produced foods, is used in over 50 countries to verify that biodynamic products meet international standards in production and processing. It is issued by Demeter International, a certification organization for biodynamic agriculture. Its name is a reference to Demeter, the Greek goddess of grain and fertility.
Related pages
References and further reading
Ehrenfried Pfeiffer:

'Bio-Dynamic Farming and Gardening' (1938)
'Practical Guide to the Use of the Bio-dynamic Preparations' (1945)

Bernard Lievegoed: The working of the planets and life processes in man and earth (1951)
Maria Thun: Anbauversuche über Zusammenhänge zwischen Mondstellungen im Tierkreis und einzelnen Kulturpflanzen (1966, 1973)
Hartmut Spiess:

'Chronobiologische Untersuchungen mit besonderer Beruecksichtigung lunare Rhythmen im biologisch-dynamischen Pflanzenbau' (1994)
Lunar rhythms and plants (1999, 2000 in EN)

Richard Thornton Smith 'Cosmos, Earth, and Nutrition - The Biodynamic Approach to Agriculture' (2009)
John Paull:
Enzo Nastati:

'Commentary on Dr Rudolf Steiner's Agriculture Course' (2009)
'Basic Biodynamic Agriculture in 9 Meetings' (2018)

Paul Scharff (1930-2014): 'Commentary on Rudolf Steiner's Agriculture Course' (2018)
Adalbert von Keyserlingk

'The Birth of a New Agriculture'
'Developing Biodynamic Agriculture - Reflections on Early Research'

Erdmut-M.W. Hoerner: 'Die biologisch-dynamischen Präparate' (2019)